I say 'almost' because I haven't seen A Bug's Life or Brave yet.  But I don't feel like waiting to do this post.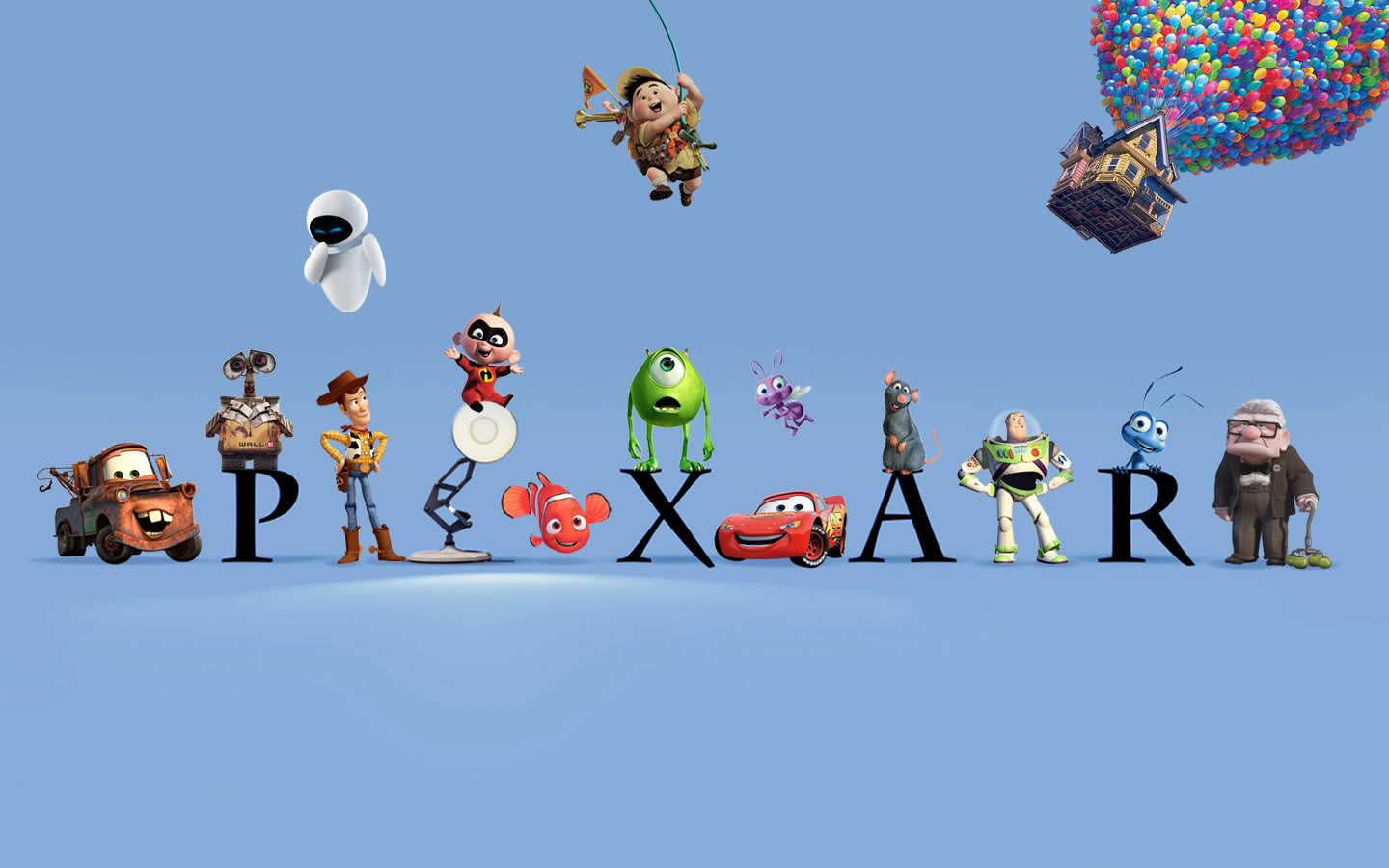 Pixar is awesome.  End of story.  However, not every one of its films has reached the same level of spectacularness (sad to say) so I thought it would be fun to finally decide where each movie stands in my mind + heart.  Expect a few surprises and lots of fangirling.  And feeeeeels because it's Pixar, for crying out loud. (Please excuse the terrible pun.)
LET'S DO THIS.
~The Good Dinosaur~
Where did you go so wrong, Pixar?  The story is predictable, the characters are dull, and the mix of realistic scenery and cartoon-like dinosaurs is more than a little weird.
~Cars 2~
Wayyyy too much focus on Mater, a story that feels more like an Illumination Entertainment Studies plot-line, and no emotional grip. (A must for Pixar, in my opinion.)
~Finding Dory~
The story is all over the place (I really dislike how the characters spend more time out of the water than in the water) and the new characters don't really make their mark on the list of Epic Secondary Pixar Characters.  The new short film that came on the DVD, Piper,  is almost perfection, though.
~Ratatouille~
The food looks delicious, but I don't like rats.  And the whole rat-controlling-the-human thing (I forget names so easily) was a little odd, I thought.  Favorite part?  Peter O'Toole voicing the exacting food critic.
~Toy Story~
This is where the rankings get tricky.  And this is also the point where the positions on this list become more fluid, depending on my mood.  Toy Story is fresh and funny and the characters are unique and lovable (BUZZ), but it still kinda falls flat for me.

~UP~
Most of UP is not particularly interesting (for me, anyway).  It's good fun, very entertaining and colorful, but when my siblings watch it, I usually just stick around for the prologue, the bit where Carl discovers the other half of Ellie's scrapbook, and the ending.  Still, it's a charming film.

~Monsters, Inc.~
I know so many people go on and on about Tom Hanks and Tim Allen's rapport in the Toy Story films, but I think John Goodman and Billy Crystal deserve to be mentioned just as often in that respect.  And the world of MI is endlessly fascinating.  (Plus, y'know, JAMES COBURN.)
~Finding Nemo~
The visuals in this film are stunning and I really like how Marlin and Nemo's stories are given equal time/importance throughout the movie.  Pixar has a knack for creating great minor characters and I love all the fish in the tank that Nemo ends up in – they're so funny.
~Toy Story 2~
I enjoy the Western element of this film.  Also, Buzz's unfailing devotion to finding/rescuing Woody.  ALSO the whole subplot with the other Buzz and Zurg and that ridiculously funny "No, Buzz, I am your father!" scene.  I'm definitely not as attached to the Toy Story movies as some other people, but the second movie is one of Pixar's best.
~Toy Story 3~
Stuff I like in this one: Ken and Barbie's romance (I know it's unbearably cheesy, but still…), the Very Elaborate Escape Plan, the final scene, Bonnie, and Buzz and Jessie's relationship.  Oh, and all the end credits scenes.
~Monsters University~
Mike makes me laugh a lot, tear up a little, and cheer inwardly as he navigates the world of Monsters University, all while in the shadow of some big guy who's inheriting good grades while Mike has to work extra hard to earn his.  Plus, I just happen to love prequels.
~WALL•E~
The music in this one, guys.  You can't beat it.  Swingin' songs like 'Put on Your Sunday Clothes' and 'La Vie en Rose' and Thomas Newman's delicately beautiful score. (Just listen.)  Add to that one of the tenderest love stories ever portrayed on the big screen, and you've got a great snapshot of what makes Pixar so amazing.
~Inside Out~
Sure, a lot of the concepts are too big and complex for little kids to understand, but what makes Inside Out work so well is the colorful characters (literally), the fantastical road trip through Riley's mind, and, let's be honest, Bing Bong.  Definitely a winner in every way.
~The Incredibles~
Love the prologue, love the sixties spy movie-esque soundtrack, and I love the themes of family and married love and not hiding who you really are.  And the characters are golden and beautiful.
~Cars~
I'll just let my review do the gushing talking when it comes to Cars. (Which a lot of people view as one of Pixar's weakest films.  What even???)
___________________________
You've been a brick to read through all of this.  Thanks so much!  Now let's discuss the wonders of Pixar in the comments, shall we?
Eva